#MYRHH
Long awaited comes the debut Hip-Hop album #MYRHH from vocalist Ijahdan Taurus and producer Echo Lair. #MYRHH stands for "My Realest Hip-Hop" and real it is, as the album comes with hard work and from deep within. The songs are about various aspects of modern noisy life, about attitude turning into destiny eventually, and how to deal with it in a positive way. Ijahdan Taurus' deep melodic voice guides the listener to an inner peace, where his words get real. The production has a 90s touch from both coasts and has influences from the Wu Tang Clan, A tribe called quest or Gangstarr. Two guests make their appearance, Magma Dawta in the song "Take" and Red Lion in "Empty Barrel".
Out December 19, 2019:
Booom! "Summit ", the second single release from album #MYRHH ("My realest Hip-Hop"), hits you hard the moment you press play. The lyrics tell a brutal truth that bass and beat will hammer into your brain: "There is healing and salvation up in the mountains. On the summit, where nature is unspoiled and at its best, people will find back to themselves and a good peace of mind. Look out for the full album #MYRHH featuring a total of 10 songs including the singles "Summit" and "Time".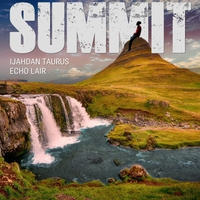 Out August 14, 2019:
"All good things take time" chants the chorus of this hypnotic Hip-Hop tune. It is the first single release from the forthcoming album #MYRHH (My Realest Hip-Hop) by vocalist Ijahdan Taurus and producer Echo Lair. Ijahdans soothing voice goes perfectly with the pleasant percussive melody and zen vibes of the beat. The boom-bap snare will take you back to the west side and reminds of an Eastsidaz, WC, Dpg, Xzibit type song. All good things take time is no lie! As we travel thru space and time, living our live(s), this indefinite and continuous process in which we manifest our deeds and see changes occur, is nothing else but time.
Out August 6, 2019:
"Replaced" explores the costs of technology in a real life debate on AI over a classic deep backpacker beat. This is a political, conscious record with a serious message. The vibe of the song is assertive and forthcoming and apocalyptic. It will remind you of a MF Doom, K-Rino type song.
Out May 17, 2019:
Intellectually witty and powerful - Go Green doesn't beat around the bush about the state of our planet and delivers passionate wordplay, proposing practical solutions for change. With Go Green, Echo Lair adds to a small but important library of green protest songs.
Out April 26, 2019:
Frequency is a reggae track by German producer Echo Lair with vocals by Ijahdan Taurus from Dominica, featuring one of California's most powerful voices, "Ras Biblical". Frequency demonstrates the coming together of styles and cultures with an intense and continuous reggae bassline and a hint of salsa and electronic music. Ijahdan Taurus and Biblical both add powerful words and heartfelt melodies, livicated to any listener who knows how to manage wrong and right, how to protect good vibes, good Frequency in the current of life!
Out now (April 19, 2019):
Go Get It pays homage to the early hip-hop pioneers and takes you back to a time, when Will Smith was the fresh Prince of Bel-Air. If it weren't for the occasional lyrical references to hashtags or Kanye songs, one might think this song came out in the early 90s. A hypnotic beat of Zen bowls and kicking drums will beam you back into that time. Go Get It is an ode to youthful optimism. With lyrics like "Me, yo, who knows what I'll become soon in the future, word to Confucius, if you've got a gift then you better let it use you", the song makes you feel like you are that wild young one again.
"Move It." The title says it all for this uptempo track that will have you moving from the moment the bongos and brass instruments strike on the Brazilian rhythmic beat. . "Move It" is a breath of positivity, good energy, and a modern hit that you won't want to miss out on.


Out now (April 12):
Rasta Song is an upbeat, yet groovy, roots reggae tune by producer Echo Lair in cooperation with Soundcloud legend Sennid as singer and lyricist. The track shows subtle signs of Echo Lair's earlier foray into dub and drum & bass as well as hints to electronic music. Rastafarian reggae singer Sennid provides the melodic vocals, that often dip into a deep, raspy range and would not sound misplaced on a Shaggy album. It works remarkably well on this reggae track.
SINGLE RELEASE DATE: March 11, 2019

"Ain't Givin' In" is the first Rap/Hiphop release from German music producer, Echo Lair. Echo Lair's blended style illuminates the track with an uptempo hip-hop beat intertwined with electronic and melodic jazz elements. "Ain't Givin' In" is glittered with anecdotes that provide hope amidst a chaotic world and political climate, and delivers a positive message to younger generations to feel empowered to make a change.
This release is a breath of fresh air from today's modern rap and pop music and will leave you feeling inspired to make a difference.
 "...a defiant musical statement..." (www.stepkid.com/reviews/)